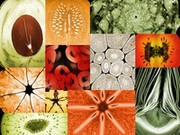 Eating a healthy diet is not just good for your waistline, it's good for your brain too! So make sure you eat your 'Five a Day' of fruit and vegetables. And you can still eat well on a budget.
At The Brain Charity's centre in Liverpool we even have our own Brain Food Café.
Seven of the best brain foods
Oily fish
Fish such as salmon, herring, and sardines are a very good source of Omega-3 fatty acids. These healthy fats are essential for the development and maintainance of the brain. Omega-3 has been shown to help ward off dementia, and as well as that, Omega-3 fatty acids can help with depression, and reduce the risk of diabetes. Our bodies can't make their own Omega-3, so you have to make sure good sources are part of your diet.
Veggie sources of Omega-3
For vegetarians and vegans, alternatives to fish include walnuts, rapeseed oil and linseed oil, and soya-based food.
Nut allergies
If you have a nut allergy, then avocados are great to eat for your healthy fatty acids.
Pumpkin seeds
Pumpkin seeds are another good source of the healthy fat Omega-3, and they are good for vitamins and minerals too. This can all help with reducing blood pressure and improving your sleep, both of which are important for your brain.
Blueberries
Blueberries are great for vitamins, and for antioxidants which are good for your heart - and therefore good for your brain. Blueberries have been shown to be good for your memory too.
Avocados
Avocados are high in healthy, unsaturated fat which helps with healthy blood flow and lowers blood pressure, and are a good source of vitamins and minerals. They even include a type of healthy fatty acid that is good for your nervous system. You might have to keep an eye on the extra calories, but avocados are great.
Dark chocolate
Great news: chocolate can be good for you! Dark chocolate is best. Chocolate includes anti-oxidants, it can help reduce blood pressure, and it can reduce inflammation. Chocolate is another good superfood for your memory too. But don't forget to watch out for sugar and those extra calories.
Wine
More good news: moderate drinking – no more than one glass of wine a day – has been linked to better brain health. Wine acts as a natural blood thinner, breaking blood clots that could lead to a stroke.
Brussels sprouts
Leafy green vegetables are one of the best sources of nutrition for the brain because they are packed with anti-oxidant and anti-inflammatory compounds that protect and promote brain functions. Some good examples: spinach, cabbage, broccoli, cauliflower, and Brussels sprouts.
Image: Collage of mixed fruits and vegetables, MRI. Credit: Alexandr Khrapichev, University of Oxford
Free to use with attribution: CC BY